Unless you're living under a rock you'll know that the soon-to-be-released version of Pandory500 will finally bring networking to the Amiga mini with the use of a USB network adapter. This latest version of Pandory500 will also allow your favourite Amiga Mini software distributions to gain access to the internet and all the goodies it brings. Want to access the Retro32 BBS on your Amiga mini?! YES – the bookmarks will be in DCTelnet for you!
Versions of Amiga Game Selector (AGS) and Aminimiga are already in the hands of testers and patrons, we can confirm a beautiful Amiga workbench experience with internet access WILL be coming very soon. The new version of Pandory500 will use the newest version of Amiberry, with its own fixes and enhancements.
When?!
We've been told that the all-new internet "capable" Pandory500, AGS and Aminimiga will be available very soon, we'll keep you up to date. We'll be putting together some bundles with both AGS, Aminimiga, a USB network adapter and a network cable so you can run it all from one USB and have access to the internet from your little machine.
Will any USB network adapter work?
Unfortunately, not all network adapters will work. Pandory500 is a little picky about compatible adapters. As below, we have a recommended adapter but we expect the "confirmed" working list of adapters together with Amazon / AliExpress links will grow as soon as Pandory500 gets into the hands of Amiga 500 mini owners.
Our recommended adapter Amiga 500 mini network adapter
We recommend the following adapter from Amazon. You may also need a long network cable to reach your router. Any CAT5 ethernet cable should be OK, just make sure you have a spare ethernet port on the back of your router (or you may need a switch).
Compatible adapter list
Please see below a list of compatible network adapters as confirmed by Team Pandory.
3Com 3C19250, ADS USB-10BT, ATEN USB Ethernet, ASANTE USB To Ethernet Adapter, AOX Endpoints USB Ethernet, Correga K.K., D-Link DSB-650C and DU-E10, Entrega / Portgear E45, I-O DATA USB-ET/T, Jaton USB Ethernet Device Adapter, Kingston Technology USB Ethernet Adapter, Linksys USB10T, Mobility USB-Ethernet Adapter, NetGear EA-101, Peracom Enet and Enet2, Portsmith Express Ethernet Adapter, Shark Pocket Adapter, SMC 2202USB, Sony Vaio port extender, Aten UC210T, ASIX AX88172, Billionton Systems, USB2AR, Billionton Systems, GUSB2AM-1G-B, Buffalo LUA-U2-KTX, Corega FEther USB2-TX, D-Link DUB-E100, Hawking UF200, Linksys USB200M, Netgear FA120, Sitecom LN-029 Sitecom LN-028, Intellinet USB 2.0 Ethernet, ST Lab USB 2.0 Ethernet, TrendNet TU2-ET100, Phy Ethernet Devices, MII Devices, USB Pegasus/Pegasus-II based ethernet device support, Realtek RTL8152 & RTL8153, Most CDC-Ethernet devices
Many of these are available on Amazon or AliExpress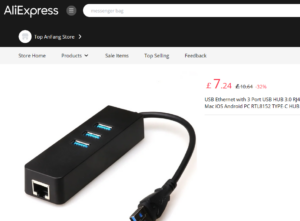 Click for the adapter on AliExpress
Will a Wifi USB adapter work?
At present this is not possible to use a USB wifi adapter, but if you are struggling to reach your router with a cable then we would suggest using a wireless bridge or power line adapters. Note that we are not able to help configure this for you.
Watch the video
Check out the video from Team Pandory below and remember to SUBSCRIBBLE
Let's hear from you
Let us know which adapter you are using in the comments below and other network setups you have configured for your mini. With everything being Wi-Fi these days, we suspect that some imaginative solutions will be coming to a man cave you!
Don't forget that we stock a number of Amiga Mini products – you can check them out below
https://www.retro32.com/product-category/amiga/a500-mini-maxi