Like many Amiga owners, I have been plagued by many power supply failures over the years. I'm just lucky that I'm the proud owner of 5 Amigas, allowing for some spares in my modest collection of beige machines.
With only one decent PSU left in stock, I decided to do the right thing and resurrect a "bricked" PSU brick with a Mean Well RT-50B power supply. These power supplies a popular restomod for a failed Amiga PSU (also the RT-65B) and is just the right size to slip into the mighty brick with only a little "trimming" required – great for the purists in the Amiga community.
This project was a bit of a steep learning curve so I've put together this article to help my fellow Amiga owners also looking to take on this little project.
Disclaimer: I'm not an electrician – this was my first PSU project and very much a learning experience. Please let me know if I'm talking sh*t at any point or if you have something that needs adding/editing in the comments below.
What's the difference between the Mean Well RT-50B and RT-65B
See below for a break down of each power supply output and the physical dimensions
| | | |
| --- | --- | --- |
| PSU | RT-50B | RT-65B |
| 5v Amps | 4 Amp | 5 Amp |
| 12v Amps | 2.0 Amp | 2.8 Amp |
| -12v Amps | 0.5 Amp | 0.5 Amp |
| Output Power | 50w | 65w |
| Dimensions mm | 99 x 97 x 36 | 129 x 98 x 36 |
| Weight | 410g | 440 g |
| Price * | £17.78 | £20.48 |
It doesn't take a genius to work out that the number in the power supply model number references the total power output. Whilst the RT-50 is rated slightly lower (15w less than the 65, it's nearly 30mm shorter, making it much easier to squeeze into the Amiga power supply case.
* Prices as of 3/7/20 these are exc. VAT and shipping
What does the original Amiga power supply output?
| | | | | | |
| --- | --- | --- | --- | --- | --- |
| PSU Type | Part number | +5V current | +12V current | -12V current | Combined Watt Power Rating |
| A500 type 1 | 312503-02 | 2.5 Amp | 1.0 Amp | 0.1 Amp | 25.7 Watts |
| A500 type 2 | 312503-03 | 4.5 Amp | 1.0 Amp | 0.1 Amp | 35.7 Watts |
| A6000 A1200 | 391029-02 | 3.0 Amp | 0.5 Amp | 0.1 Amp | 22.2 Watts |
| A600 A1200 | 391029-03 | 3.0 Amp | 0.5A | 0.1 Amp | 22.2 Watts |
How much power does an Amiga consume?
Even with beefy hardware added to the A1200 (68060 and some hard drives), you'll be lucky to see over 3 amps 5v an 0.08A 12v for a combined total of around 15 watts.
For reference, a stock Amiga 500 pulls around 2A (5v) 10W – Amiga 600 1.7A (5v) 8.5w and a stock A1200 1.4A (5v) 7w. So unless you really need the extra power the RT-50B is more than enough for most Amiga hardware.
Why did I use the RT-50 over the RT-65
With my humble Amiga 1200 sporting a CF hard drive, GOTEK, external floppy and an additional 8MB of ram, it'll still only be pulling 10 – 15 watts at its peak. The RT-50B is more than capable and also 30mm shorter than the RT065, allowing much more room for activities in the already cramped A500 power supply case.
Where to buy
If you're looking for a spare Amiga PSU or don't want to be without your current brick then I'd suggest heading over to Ebay, You should be able to pick up a doner PSU for anything from a couple of quid up to around £25 for a working model.
For the power supply, I sourced mine from Powersupplies online for less than £22 delivered to my door – https://www.powersuppliesonline.co.uk/rt-50b-50w-5v-4a-triple-output-switching-power-supply.html
What else do I need?
I'd recommend that at least you'll need the following
Electrical connectors / soldering iron/shrinkwrap – depending on how you'd like to connect the wires
A small/medium Philips screwdriver
Dremel tool/cutters
Getting started
Firstly, ensure your PSU is not plugged to the main or Amiga, flip it over and remove the screws. You may need to use a thin screen driver down in the recessed holes. Once open CAREFULLY split open the PSU case.
WARNING! The power supply may still retain some electrical current. TREAT IT AS LIVE. Carefully snip all the wires to and from the power supply with insulated wire cutters then carefully remove the guts of the until using an insulated tool. I used the same wirecutters to grab onto one of the plates and lift it out. I can't stress how careful enough how careful you should be.
Check the Pins
Using the multimeter's continuity feature I traced and recorded power cable wires to the Amiga, recording them on the back of an Amazon packing envelope. Simply strip the ends of the wire and carefully test each pin and record the cable colour. We've seen lots of combinations of colours so DO NOT just go by the colours on some random Facebook post. This is why you need a multimeter
Amiga connector pins
To help you record your cables to pin colour use the following diagram. Strangely, this PSU didn't have a shield pin cable.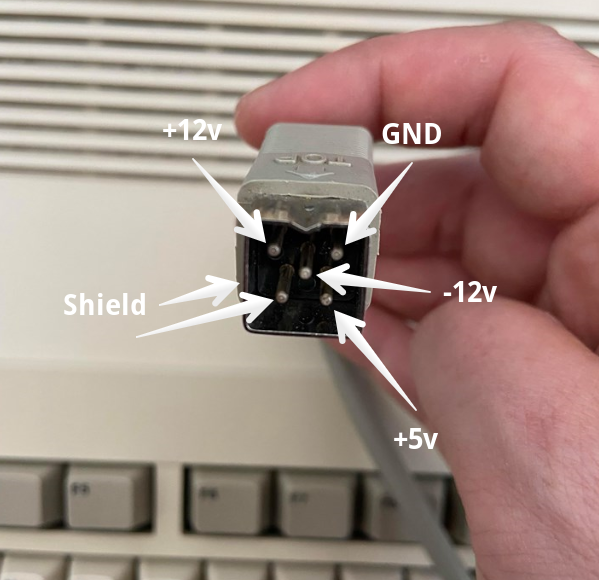 Test the power supply
Next, I connected the MeanWell and tested it on my spare Amiga 500 before going any further. Using the pin test above, I connected the cables as below. Note that your cable colours to the Amiga might be different – you MUST identify these or you risk damaging your precious Amiga.
This worked perfectly on my less than perfect A500. Next, I prepared the case.
Trim the case
As below – to help give some clearance to the AC power in cables I hacked trimmed away some plastic at the top of the shell. I also trimmed the four plastic risers at the sides. These fouled against the sides of the MeanWell unit, stopping the case from closing fully. A Dremel would have made a much cleaner job of this.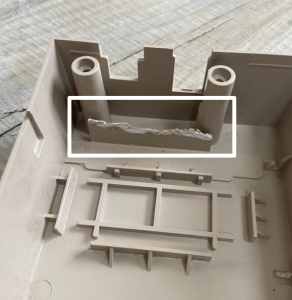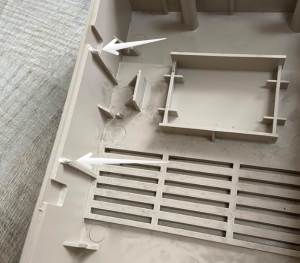 Fitting time
There's a wide number of ways that you can fit the MeanWell power supply into the PSU case. We've seen people run the AC cables underneath and even move the AC cables to the other side of the case so they don't need extending. I opted to keep it looking original from the outside and extend the cables.
I wired the switch into the LIVE (brown) AC in cable, soldered extension wires taken from an old kettle lead and wrapped them in electrical tape. I then used the iron to shrink the tape. Now, my soldering skills are shocking and I wasn't really happy with the results.
For my next attempt, I hacked out my shoddy soldering in favour of electrical block connectors. This will allow the PSU to be swapped out in the future with minimal fuss.
Testing the outputs
Before having the bollocks to test this on my cherished Amiga 1200, I took the opportunity to test the voltages on the output of the MeanWell RT-50B. See the results below.
Note: testing on a live PSU has its risks. Please PLEASE be careful.
Note the values:
5v = 5.11
12v = 11.31
-12v = -12.18
As above, the voltages were a little out (I'm talking to you 5v). You'll see what a difference this can make below.
Amiga 1200 testing
At this point, I was "happy" that the PSU as working as expected and connected it to my beautiful Amiga 1200. Upon booting into Workbench, I noticed some rolling video interference on the display.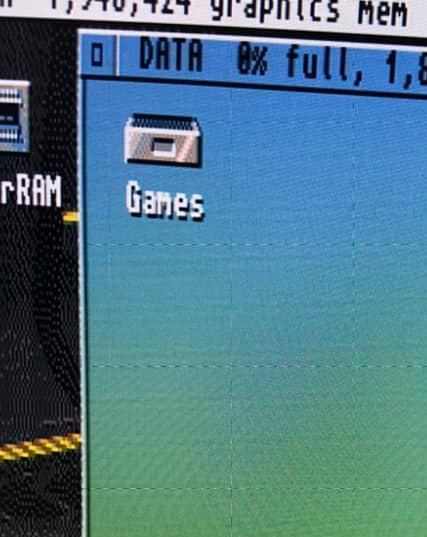 I'm using an OSSC, so I tried a number of things to see if it was the power supply at fault. I plugged the Scart directly into my LG 15Hz panel and also moved the power supply to a "clean" socket. None of these resolved the issue, at this point I thought my new MeanWell PSU could be faulty. I reached out to the amazing Amiga Facebook community.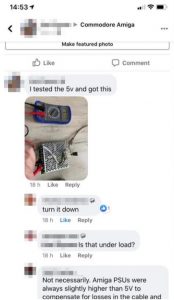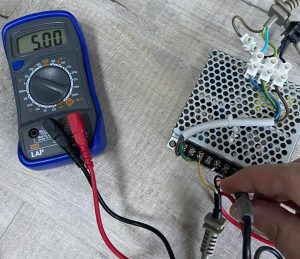 I adjusted the 5v output buy turning the 5v adjustment dial counter-clockwise until it read a glorious 5v dead. I tested it again and voila!
The final product
With everything working perfectly the power supply was again completely disassembled. The case was given a soapy bath, a little soak with some Barry White and candles. After a dry down with a couple of microfibre cloths it was like new.
Here she is. From the outside, you wouldn't be able to tell that it's hiding a new and improved MeanWell RT-50B that should power my Amigas for many years to come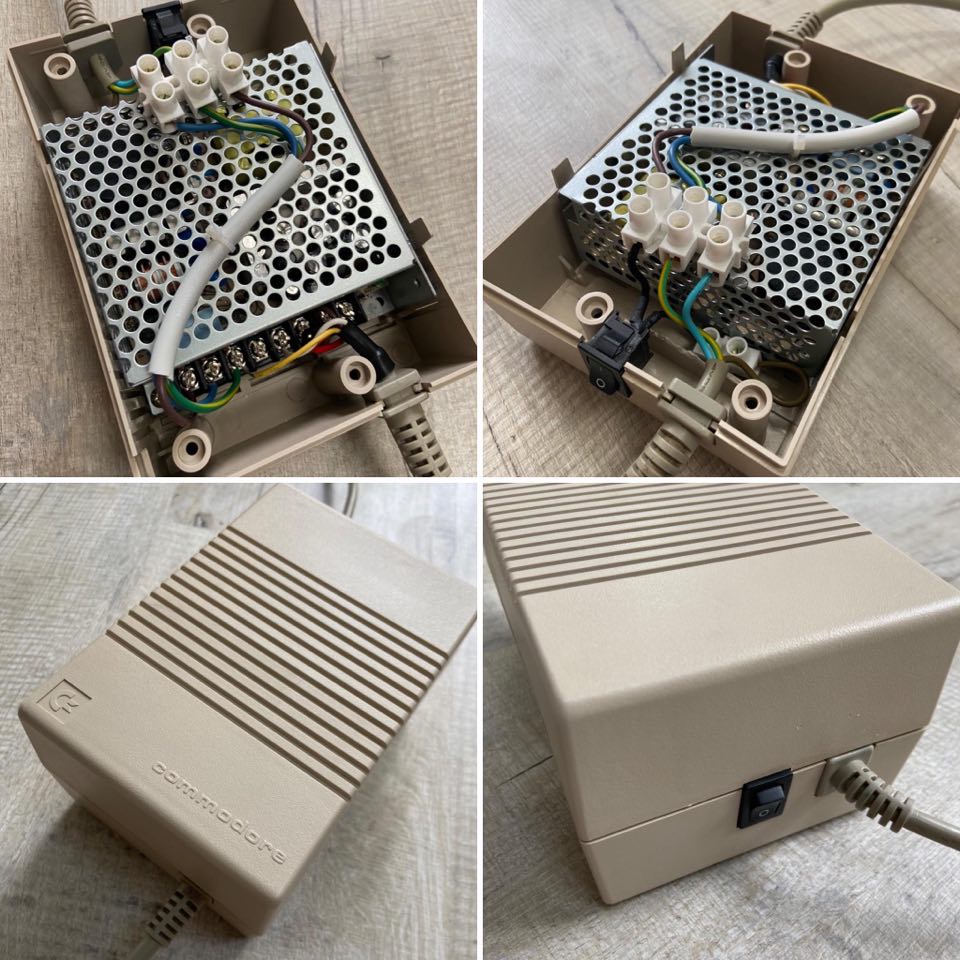 Final thoughts
This whole project was a learning experience. Mistakes were made but I'm very happy with the outcome.
For a very small outlay, it's quite a feeling to know that I've managed to resurrect a piece of Amiga hardware that I would have normally disposed of in a heartbeat.
Let's hear from you.
What do you think of my mini Amiga power supply project? Have I made any silly mistakes? How could this be improved? I'm more than happy to revisit this project in the future with your thoughts and advice. Let us know in the comments below.