Since we posted the photo of our Retroid Pocket 2S running AGS, we've had a lot of requests for a guide to set it up. So, here it is.
As with all our guides, we welcome and encourage feedback. It's what helps us improve our guides, please let us know any improvements or mistakes you may spot in the comments below.
First, thanks.
Thanks to Paul Vince – the creator of AGS. Without his dedication and skills, this wouldn't be possible. We're also very proud to be sponsoring AGS as a project we believe in. You can read more about AGS on his website https://www.amigagameselector.co.uk – scroll down for links for all his social links.
Download AGS Real Hardware
The first you need to do is download AGS Real Hardware Edition – below is the torrent file. If anyone would like to pass on a fully hosted version of this file then please drop us the link, it might help those not comfortable with using torrents. It will also allow the package to be downloaded directly to the device.
We've hosted the torrent file here for now but it can also be found on the AGS discord / FB group.
Once it's downloaded, extract the AGS_RHW_v23b.hdf file to your computer
Amiga Rom file
You'll also need an A1200 3.1 kickstart ROM. I'm sure most Amiga folk will already have this but if not, please find links below. Note that we have not hosted these links before anyone gets all upset. Thanks to "John" for kindly sending us this link. In case it's taken down we're also looking for alternative links. Please drop us a message.
https://mega.nz/file/VYI0lJDC#fqFBH51B45e5igdC5MsmpVT7xxVsLxid_FRnP4M8yhE
Copy files to your device
It's now time to copy the files to your device. For ease of use, we just popped them into the download folder on the device's internal storage but it's entirely up to you. If you have an SD card in the device then that would be fine too. Since the Retroid Pocket 2S has 128GB of internal storage we're just using that.
As long as the emulation can access the path then it's up to you.
Install uae4arm
With the files downloaded let's get UAE setup on your device.
Download UAE4Arm from the Google Play Store. DO NOT use an APK from the internet, please use the one from the store. There might be better apps available but this works for us and the UI is familiar. If you are using another device and have any other software suggestions then please comment below to help others.
https://play.google.com/store/apps/details?id=atua.anddev.uae4arm
uae4arm setup
You've now got both the ASG hard disk file and kick rom on the device and have installed uae4arm. Let's get it set up!
Open uae4arm and go to Quickstart > Select the Amiga Model Amiga 1200 – this will put the basic settings in for you
Now select Configurations select uaeconfig and save. This is the default config for uae4arm and will be loaded when you start the app. We'll do this again when the set up is complete,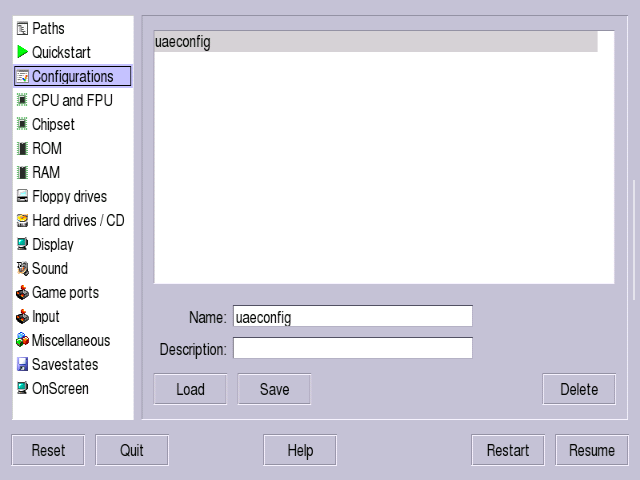 Go to CPU and FPU and make sure you have the CPU set to 68030 > FPU None > CPU Speed 25 Mhz
We've tried to make the settings as compatible as possible. If you want speed then you can change this.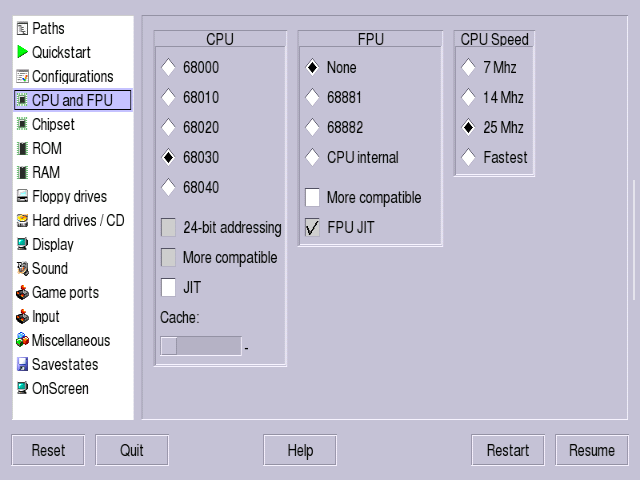 You don't need to change the chipset settings but it should look like this. This shows us that the A1200 quickstart config applied OK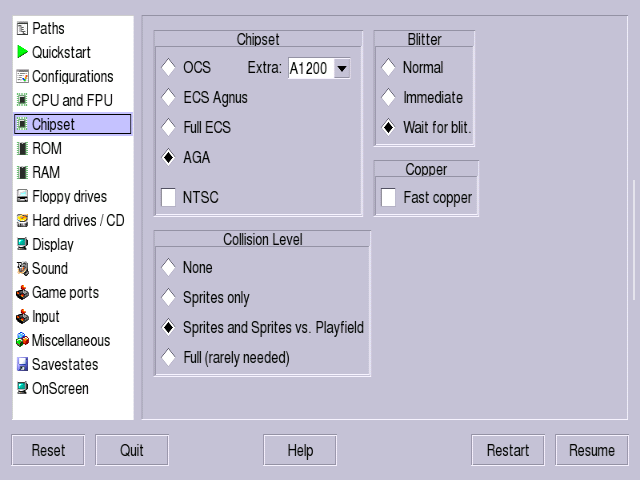 Under ROM > Main ROM File click the […] and browse for the kick.rom file you copied to the device. Your screen will look different depending on where you place the file on the device.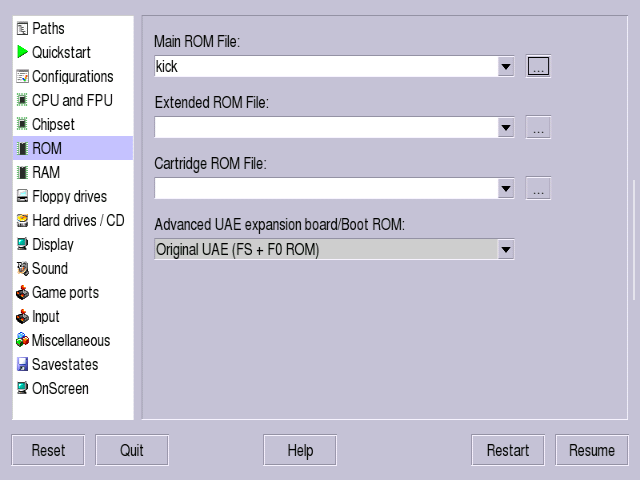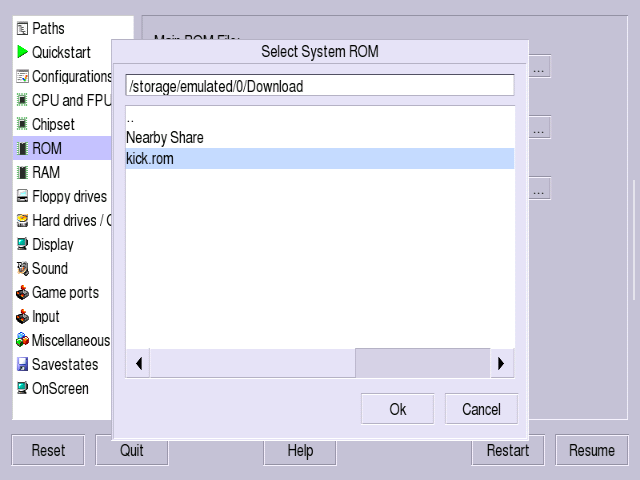 Now go to RAM and drag the silder for Z2 Fast to 8MB. For those into "real" Amigas, you'll know that for WHDLoad support you'll need more than the standard chip RAM on the Amiga to run games this way.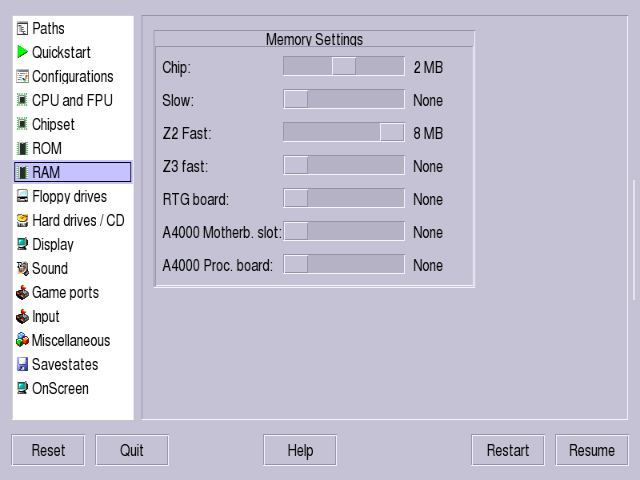 Select Hard drives / CD > Add Hardfile > Path […] and browse for the AGS_RHW_v23b.hdf that you copied to the device. You need to make sure it's set as DH0 and both Read/Write and Bootable are ticked.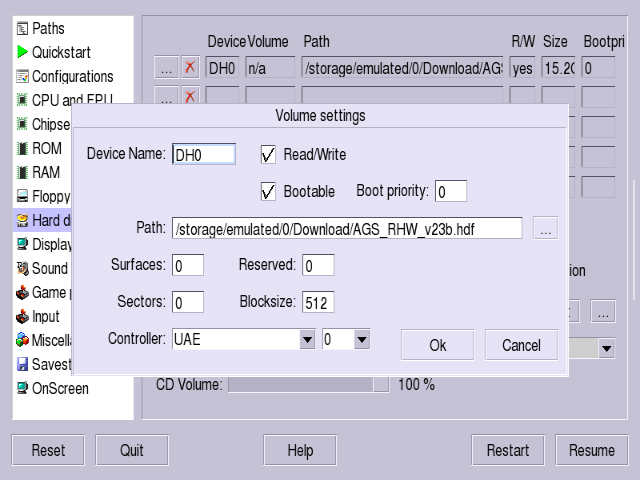 We're nearly done! It's time to get rid of those horrible onscreen buttons. Select OnScreen and keep the following checked. You'll still have access to the onscreen keyboard with the little icon at the top left.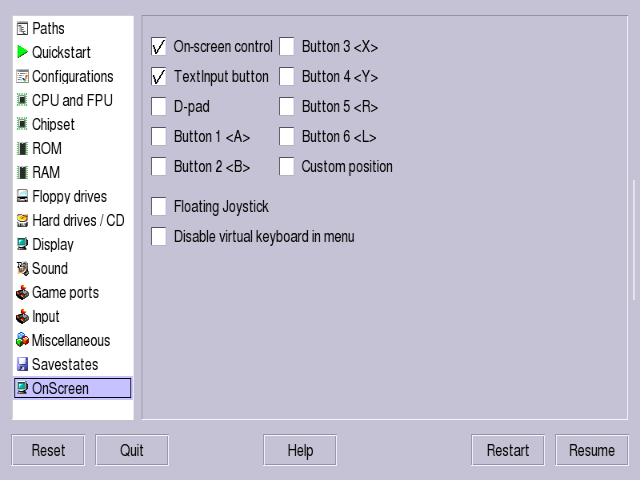 Now let's save that config. Remember that if you make a change and it stops working, exit the app and reload it. The base config you have here will load and you can tinker again.
Start
You can click Start at the bottom right and it should look a little something like this! To exit to the "desktop" Workbench select the little keyboard button and press escape. We'd also suggest changing the quit game button to something other than the default.
Read the FAQ!
The FAQ isn't included in the Real Hardware package. Here it is below. Please have a read.
Optional Settings
If you want ASG to run at startup then select Miscellaneous > Untick "Show GUI on Startup" Note that you may need to configure a button for the UAE menu, on the Retroid Pocket 2S it's the Play button on the top right of the screen above the Y button.
We need your help
This guide was created as a basic way to set up and use AGS Real Hardware edition on the Retroid Pocket 2S or any Android device. Please let us know in the comments if you have any further suggestions for the config or anything that might be incorrect. We're always looking to improve our guides and help you guys out.
Let us know which devices you're running AGS RHW on, any little quirks you've found or any general observations.
Links
Support
As always, please support Amiga game devs. Buy their games. Also, show your support for Paul. There is a link to his Coffee fund on his website, consider dropping him a little donation for all his hard work.