With a measly 32GB of internal storage in the Nintendo Switch, it's not hard to see why there is such a big market for SD cards for your favourite handheld. Unfortunately, not all SD cards are equal so we've put together a guide to help you chose the right one.
What type of SD card should I buy?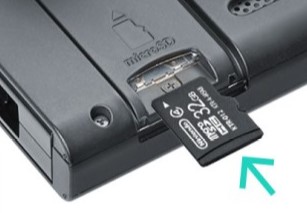 The Switch uses a MicroSD card which is inserted in a slot at the bottom rear of the console just under the kickstand. Ensure you buy a MicroSD card, an SD card is a little bigger than the MicroSD can not be used or converted to be used in the Switch.
What is the largest SD card the Nintendo Switch will support?
With games such as Zelda taking up nearly 15GB of space, the 32GB onboard storage won't last you long. The Switch supports up to 2TB MicroSDXC cards. That's a whole lot of games!
What size MicroSD card should I buy for my Nintendo Switch?
The size of the card you bu depends entirely on your budget and the number of games you would like to store. There is a big jump in price for anything over 400GB, so we suggest you stay around the 256GB / 400GB mark but again this entirely depends on your needs. With 128GB SD cards only little more than £15, we suggest you opt for that as a minimum.
Can I use multiple SD cards in my Nintendo Switch?
Yes, you can use multiple SD cards for your Nintendo Switch. The game saves/saved data is stored internally on the Switch so if you lose an SD card, you won't lose your progress on Zelda or beloved Pokemon collection. Just ensure you turn off the switch before swapping the cards. It might also be worth numbering your cards and keeping a note of which game is on each card to prevent any confusion.
What speed SD card should I use in my Nintendo Switch?
Nintendo suggests that you use a "High Speed" SD card for your Switch that offers a speed of "60-95MB/s (the higher the read/write speed, the better)". You should be looking for a card showing a UHS-1 speed rating.
Is the "Official Nintendo" SD card better than the others?
Nintendo offers a number of "official" SD cards for your Nintendo switch, such as the below from Amazon.
Whilst these Sandisk "licensed cards" come nicely packaged with illustrations from your favourite games. You will pay a premium for this. For example, a 256 "official" Sandisk card (above) costs around £75 whilst a normal SD card which offers the same read/write speeds is just £40. The choice is entirely yours however we certainly don't see the benefit.
Where is the best place to buy a Nintendo Switch SD card from?
For the best price on SD cards and storage in general, we prefer to use Amazon. We've had some issues with fake cards from market place sellers so we strongly recommend selecting a card which is marked as "Dispatched from and sold by Amazon." This is normally displayed under the Add to Basket / Buy Now buttons. We've added some links below to our favourites which offer great value for money and also enough storage to keep your collection on one card.
Let's hear from you!
Which SD card would you suggest? Have you been ripped off with a "fake" card? Which size SD card do you have in your Nintendo Switch. Let us know in the comments below.
Some links and products may contain affiliate links. We may get paid if you buy something or take an action after clicking one of these. For more information check out our Privacy Page.