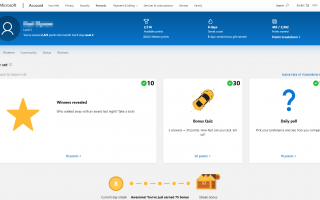 If like me, you're entangled into the Microsoft ecosystem,  you might want to take full advantage of the Microsoft Rewards system that essentially offers your free money for using Edge, Bing, your Xbox and Xbox Game Pass. We've put together this article to help you make the post of the rewards system and ensure you're earning as fast and efficiently as possible.
What is Microsoft Rewards
Microsoft Rewards is essentially a way for Microsoft to inflate their platform usage figures by offering you rewards for completing tasks and performing searches. The rewards, in the form of "Microsoft points" can be "redeemed" for a wide range of products, services and offers. These include Microsoft gift cards, sweep-stake entries and retail gift vouchers.
How to join Microsoft Rewards
Simply visit the website https://www.microsoft.com/en-gb/rewards?rtc=1
You will be required to have a Microsoft account.
Our Top Microsoft Rewards Tips!
Install the "new" Edge Browser
Using the all-new Chrome Edge browser for your searches will earn you points. A whole 12 of them per day. In the big scheme of things, it's pocket money but it's honest work. Click here to Download the new edge browser
Now install the "new" Edge Browser as your default browser
Using Edge as your default browser? Are you f**king crazy I hear you say?! Well, maybe but hear me out. The new edge browser is built on the Chrome Browser and offers an equally fast, reliable and functional experience. You can import your Google favourites and if you keep Bing as the default search engine, you'll be clocking up at least 102 points a day without evening knowing. Google might be the search engine of choice for 90% of the world but I've managed to "Bing" my way around for the last few weeks without too much trouble.
Complete the Daily Tasks
Each day, "sets" or activities are available on the rewards dashboard, the Xbox rewards app and the Xbox game pass. This might be completing a search, quiz, installing a game or checking out a game available in the store. These typically offer between 5 and 100 points for each one completed. Be sure to scroll down the rewards page for the "More Activities" section. This offers further point-earning activities. Note that you can only perform these once per day, you are not rewarded for repeating them.
Log in daily
Searching and completing the tasks on the rewards dashboard daily will increase your streak count and reward you with points. Maintaining your streak is as easy as performing one action each day that counts towards your points total.
Install the Xbox Microsoft Rewards App
The Microsoft Rewards app offers daily, weekly and monthly tasks to complete which are unique to the Xbox dashboard. The tasks are not available on the web rewards dashboard and offer a number of easy tasks which can be completed quickly using your controller.
Check for rewards emails
Each week Microsoft Rewards will send you an email with some exclusives was to earn points. These rewards not available on the dashboard so be sure to complete these are well as your other daily tasks.
DAILYS POINTS ADD UP!
Want to know our secret to maximizing your rewards points? Small daily tasks add up. So check the browser rewards dash, take 2 minutes to do the polls and quizzes, use Edge / Bing for your default browser, play your Xbox, check the rewards app and for your daily game pass quests. All these points soon add up and you can easily see upwards of 500 points a day for not a lot of work. If like me you're a slave to a computer during the day and relax with Forza Horizon 4 in the evening, you'll not even notice the minimal effort required to make up to 15,000 points a month just using Microsoft services.
Xbox Game pass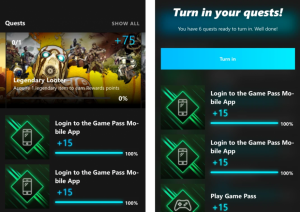 If you're ab Xbox Game pass subscriber, Microsoft offer a huge number of points in the form of "Game Pass Quests". These come in the form of Daily, Weekly and Monthly quests which offer between 15 and 1000 points for completion. These range from simply opening the Xbox Game pass app on your phone to installing and playing a set number of game pass titles on your system. The rewards for the quests are sizable, especially if you're a regular Xbox gamer – they stack up very quickly.
Remember to "turn in" your quest points when you see them pop up on your Xbox or phone to ensure these are added to your total. On the Xbox, you'll see a quest popup prompting you to turn them in. We're not sure if they are added automatically if you don't turn them in but it's best to be safe then sorry.
Be warned that some of the quests are simply not worth the time and effort in chasing (in our opinion). Microsoft has set the bar pretty high with some of the tasks and unless you're playing a certain game anyway, a reward of 50 points for a task that might take an hour simply isn't worth it. You're better concentrating on your daily search and game pass points.
Microsoft Rewards FAQ
What's the best use of my points?
Microsoft offer a wide range of ways to redeem your points. These can be in the form of vouchers, sweepstake entries or even donations to charity. Be sure to check the "Redeem" page regularly to see any offers. For example, the Xbox £5 gift is currently just 5000 points rather than 6300. That's quite a saving and as you see below, we're making the most of it!

Can I automate Bing searches
Automating or scripting Bing searches for points goes against their terms and conditions. Cheating the system has resulted in accounts disqualified from the rewards program.
Keep up to date with the Microsoft Rewards Community
Communities such as https://www.reddit.com/r/MicrosoftRewards (Reddit) are a great way of keeping up to date on the rewards news, tips and general information. Be sure to let us know in the comments below if you find any gems of information that you think needs adding.
Let's hear from you!
What are your top rewards tips? What are you saving your points for? Let us know in the comments below