Description
Have all your Amiga CD32 D-Pad locating tabs broken? Does your directional pad slip and turn in the controller? Does it rattle when you shake it? Have the plastic tabs stopped the fire buttons working? Well, you've come to the right place!
We're proud to offer a replacement Amiga CD32 D-Pad, lovingly 3D printed to the highest quality. Due to the process of printing small parts like this, we struggled to replicate the directional "bumps" as per the original design as they proved to be uncomfortable with a poor finish. We have opted for a dual design, our kit includes both a flat and curved design, giving you the choice of two great designs. It also includes 2 bottom rocker inserts which can be pushed directly into the underneath of the D-Pad. They are a snug fit but we'd recommend using a spot of superglue to secure it.
Our D-Pads have been designed and produced in the UK from scratch. They are direct replacements and do not require any modifications.
What's included?
1 x Replacement Flat D-Pad in black (3d Printed)
1 x Replacement Curved D-Pad in black (3d Printed)
2 x D-Pad bottom rocker (optional fit – 3d Printed)
Note that these are available in both horizontal and angled grooved configurations as below. Ensure you select the option you'd like in the dropdown.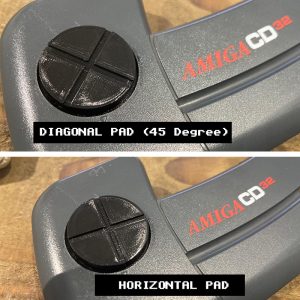 Any questions?
Do you have any questions before you order? Contact Karl (at) retro32.com and we'll do our best to help you out. All our products are under continual development – please get in touch if you have any feedback or suggestions. Want more colours/designs? Let us know!
Please Note
PLEASE PLEASE PLEASE be careful fitting your new D-Pad, 30-year-old plastics can be brittle and we can't be held responsible for any damage caused to your beloved Amiga pad by fitting this D-Pad. Be careful not to overtighten screws when assembling any Amiga product and ensure you line the threads up before tightening.
This D-Pad has been developed and produced for enthusiasts, by enthusiasts. You are paying for our time and the plastics we have used to print.
Shipping
We ship to UK, Europe, the United States, and Canada. We can not be held responsible for any taxes or fees associated with the sending of this item. Please ensure you have accounted for any additional shipping charges or taxes before ordering.