Every once in awhile, I'm hoping to take the time to give you a little update on what's been going on at Retro32 HQ.
This might be additions to the website. It might be some topical discussion. It might just be what I've been spending my hard-earned cash on.
Our Website
Despite the website being relatively new, the response and overall performance have been rather impressive. We've had a lot of interest in our Amiga articles which have gone down well in the Amiga Facebook groups, prompting some great discussion and some ideas for further articles. It's really hard with a new project to gain traction but we seem to have hit the right balance between popular subjects and niche articles aimed at helping our fellow retro computer enthusiasts. Going up against the big boys like TechRadar and The Verge is never going to happen so I'm quite happy covering the topics which interest me rather than rehash the same shite that's all over every tech blog. If you're reading this… I thank you for visiting us and please do share and like us on our social media account.
New Purchases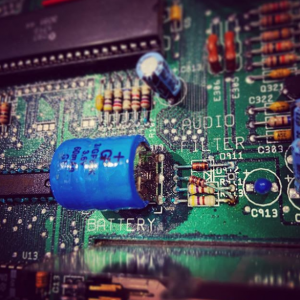 If you follow our Instagram https://www.instagram.com/theretro32uk you'll have seen I made a recent purchase of a rather Mint (on the outside) Amiga 500+. The unit came with a whole host of paperwork and even the original receipt of sales. Being an Amiga 500+, it has suffered at the hands of time and a leaking battery has damaged the motherboard. It's going off for repair in the next few weeks so I'll keep you posted on the progress and even start an article covering its rise from the Ashes.
I've also become the proud owner of a copy of Mig29 for the Megadrive which was a favourite of mine back in the day. I never made it past the first level back in the day (well, I was 11) so I'll be making it my bitch once and for all. It's not exactly M$ Flight Sim 2020 but it holds a place dear to my heart.
Off to LAG 2020
Next weekend I'll be joining my fellow Amiga nerds enthusiasts at the first LAG (Lincolnshire Amiga Group) meet of 2020. It's been a while since I've had the opportunity to hang out with others as passionate about the humble Amiga as I am. It'll also be great to show off some of my collection and also get some help and advice on some issues with a couple of my machines. I'll be covering this its own article so please do check back for more info.
Let's hear from you
It's gone midnight, so I'll leave it there for my first "blog" post. Please do let me know if there's any topics you'd like me to cover or even an article or subject you'd like me to expand on. I'm also actively looking for contributors to the site who would like to give their insight and expertise into the world of Retro computers and gaming. Feel free to drop me a comment below or get in touch using our contact form.
Much Love, Retro32.