With just 132 days until Christmas, we thought we'd compile a list of the top 10 retro gaming gifts actually worth buying. If like me you're fed up with the usual retro gaming gifts only worthy of the bin (talking to you fake NES mini from Amazon) you'll know the heartache of receiving of utter shite crap. I'm not being ungrateful but retro gaming is a huge passion for many which is why we've compiled the list below of things that you (well I) would like to unwrap in 132 days time.
Update!
Since we published this article we are delighted to announce that we have produced our very own line of Amiga themed Xmas tree decorations for the Amiga enthusiast in your life (or just for yourself). These decorations have been lovingly designed and produced to the highest standards, giving your Christmas tree that retro Amiga feel.
Click them out in the link below
1. An official Mini console
What a time to be a retro gamer! We are now spoiled with a wide selection of official (I CAN'T STRESS "OFFICAL" ENOUGH) min retro gaming consoleS. All of them come bundled with a number of classic games and many any be modified to accept more or even have the ability to add your own.
Please please please make sure you buy an official mini console as there are quite a lot of 3rd party consoles available from companies like AT Games that are absolute s**t. We've popped some links to the official consoles below to help you out. If you're not sure then please feel free to ask in the comments below or reach out to us on social media.
Older systems like the NES and SNES mini consoles command a large price tag but the Megadrive and C64 (Full size) machines are stand out machines for me.
2. Raspberry Pi (3 or 4)
This is another absolute corker of a present for any budding retro gamer. The Raspberry Pie is one of the best retro gaming emulation platforms available today and opens up a whole new world of retro gaming learning and programming. They are a completely modular system and with a massive array of 3rd party accessories – the sky is the limit.  The FREE software RetroPie allows you to turn this little PCB into a gaming powerhouse and allows emulation all the way from the most basic gaming systems to the N64 and PlayStation 1.
For the best performance be sure to choose either the RetroPie 3B or 4 series as they offer improved performance and wifi support making them much more versatile. If you want to go that little further than why not also pick them up a 3rd party retro gaming Pie case and controllers  to complete the system
For more info about RetroPie check out their website – https://retropie.org.uk/
3. A magazine subscription to Retro Gamer Magazine
If your loved one isn't already subscribed to Retro Gamer Magazine then it's one of the best gifts available hands down. Not only does it offer a significant discount over buying from a newsagent, they often come bundled with a gift of some description to sweeten the deal.
The Magazine is the only print magazine I would pay for and is filled with the latest news, reviews, and interviews from the world of retro gaming. Check out their website for more details https://www.retrogamer.net/
You can secure your subscription via https://www.myfavouritemagazines.co.uk/gaming/retro-gamer-magazine-subscription/ or even have a look at a magazine in print as they often have a page showing the current offers that might not be shown on the MFM website.
4. A mini arcade machine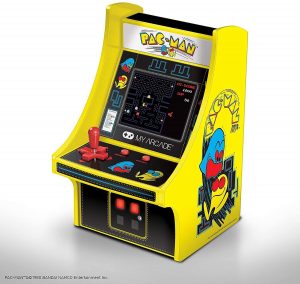 As with the mini consoles, the mini gaming cabinets have made leaps and bounds since the days of the humble Game and Watch. Unlike their big brothers, you won't need to move furniture around to fit one of these in your house and many offer a wide selection of games with some great artwork.
Check out Amazon for a wide range of mini arcade cabinets. We have also seen these pop up in supermarkets such as Lidl and even the novelty pop-up shops like Men Kind etc..
Mini Arcade Cabinets from Amazon 
5. A retro gaming console
This is a high risk/reward purchase. Buying retro consoles without knowledge of what to look for or what you should pay is certainly not for the faint-hearted. If possible, seek advice from a friend of theirs who might know a little more than you do if you're not entirely sure about what to buy. Owners / Fansites / Facebook groups also offer a wealth of information and buyers guides for many machines. Also, be sure to check their current collection to make sure you're not buying something they already have.
Facebook marketplace or machine-specific selling pages usually offer a wide range of machines for sale. eBay is also a great place but be sure to use PayPal to ensure you have buyer protection. This goes for any purchase on eBay – we've heard sooooo many horror stories.
Being massive Amiga fan boys, we've put together such a guide for the epic Amiga 500 – check it out below
https://www.retro32.com/buyers-guide/21012020126-commodore-amiga-500-buyers-guide
6. A subscription to Xbox Game Pass / Playstation Now / Nintendo live
Gaming subscription packages from the main three gaming include a wide variety of both modern, indie and retro games to play for free. This small monthly cost compared to buying the huge catalogs of games available makes this a very affordable way of getting access to these games without having to invest in physical titles. Just make sure your loved one doesn't already have a subscription to the service already.
For best prices check our Amazon or pop on over to the Xbox Game Pass / PlayStation Plus or Nintendo Stores.
7. A retro game from Ebay
eBay is literally busting at the seams with Retro Games being sold by collectors and those clearing out their attics. Choosing the right title can be tricky if you're not sure what your loved one already has in their collection or you are unsure what platform to buy for. Before buying maybe do a little digging and find out if there are any games that they might like or have always wanted.
As with any purchase from eBay, make sure they are a reputable seller and ALWAYS pay using PayPal. If you're asked to use an alternative payment method such as bank transfer or card then run.
As an alternative to Ebay, game stores such as CEX also have an extensive selection of retro games and hardware instore and online. It might also be easier to drag your loved one there to get an idea of what titles they'd like.
8. Reto Gaming PJs
If you're loved one is anything like me then they love themselves a nice set of PJs! Nothing beats a cozy winters night in front of my Amiga with a hot chocolate and my favorite Minecraft Steve PJ's, ready to tackle the enemies with Jools, Jops and Stoo (Cannon Fodder FTW)
It's a little early in the year yet but many of the supermarkets and online retailers offer a wide selection of Pyjamas closer to the Christmas holidays. Why not find them a set for their most beloved console or even something to match a photo of them from back in the day.
9. Gaming vouchers Playstation / Xbox / Nintendo / Steam vouchers
Vouchers have always been a goto gift for that hard to buy for friend or family member that loves a bit of gaming. Even a small amount just as £20 is more than enough to secure some great indie titles on most platforms. Just make sure to confirm to buy for the correct platform as these are often none refundable and you can not use them across platforms.
Check out Amazon for gaming vouchers
Top tip! If ordering gaming vouchers on Amazon make sure they are sold and dispatched by Amazon direct. DO NOT use a market place seller or eBay. If in doubt by them from a supermarket or game store.
10. A retro32 TV shirt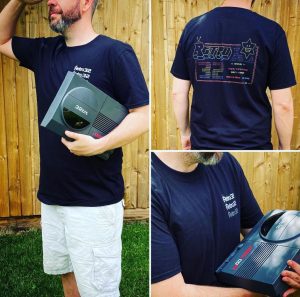 We thought we'd slide this one in. Why not treat yourself you a stunning limited edition Retro32 TShirt featuring our beautiful ASCII as designed by our staffer fZn. They are available in a very limited run and are just £25 including postage to the UK. Hit us up on social media or via our contact page to order. We will be offering a shop at some point soon but until then we're just offering them on a first come first serve basis. (Paypal accepted).
Let's hear from you!
Have you got any ideas on retro gaming gifts? Do you need advice on what to buy? Let us know in the comments below.