Being on the receiving end of many a "thoughtful" retro gaming present, it's about time someone produced something both unique and thoughtful for that Amiga lover in your life. We've all got those crappy £20 272,892 all in one portable games consoles gathering dust, just waiting to be turned into e-waste. This year, it's our mission to offer a gift perfect for any Commodore / Amiga fan and hopefully putting a stop to those fake smiles and mountains of presents left to rot at the back of the garage.
We present to you our exclusive range of Amiga Christmas tree / decorations / charms / models.
These stunning little miniature models are perfect for any self-proclaimed Amiga enthusiast and feature a wide range of beautifully designed Christmas decorations for your tree or man cave. Starting at just £10 for a 5 pack these little beauties offer great value and are a perfect gift for that hard to buy for loved one.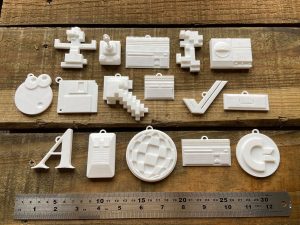 Our models include
Commodore Logo
Amiga Tick
Floppy disk
Workbench drawer
3d Pixel cursor
Zipstick Joystick
Amiga "A"
Tank Mouse
Boing Ball
Amiga 1200
Amiga CD32
Amiga 600
Amiga 500
Christmas Lemmings Run
Christmas Lemmings Block
Putty Character
As an added bonus we offer these with your choice of satin 5mm ribbon in white / red / green (dark and light).
How to buy?
You can purchase these directly from our newly opened shop. Click for our retro gaming product range and for our Amiga Christmas tree decorations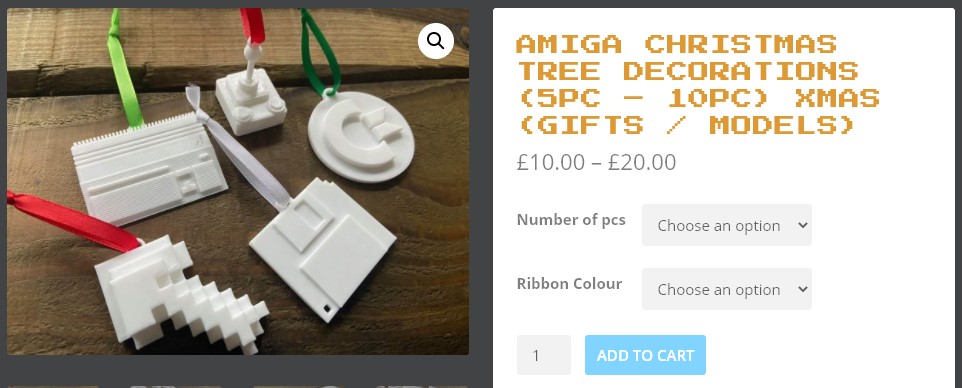 Model ideas?
We're constantly updating our line up and adding new models all the time. Let us know if there's something you've like to see and we'll do our best to make it available.