After publishing our epic AMIGA PUBLIC DOMAIN PD GAMES DOWNLOAD PACK ADF we've fallen back in love with the Amiga public domain scene. Just so many little gems that often get overlooked.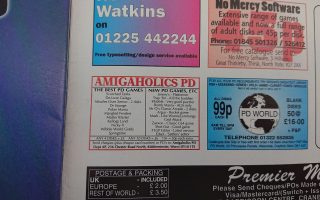 So imagine my excitement when I was forwarded an advert from an Amiga Power magazine from our long term supporter, friend, and legend that is FuZioN. Their list of BEST PD GAMES offered some real gems that we haven't seen before… until now!
Since we still struggle to find any decent Amiga Public domain download packs we're put together a pack for your downloading pleasure. These can be used in an Amiga Gotek or emulator. For more information on the Amiga Gotek check out our Amiga Gotek getting started guide.
The Pack Contains
Deluxe Galaga v2.6C (1995-06-01)(Vigdal, Edgar)(SW)[KS3.0].adf
DR Strange.adf
Mangled Fenders ACE (1995)(Storonskij, Pete).adf
Master Blaster v2.21 (1995-10-25)(Nexus)(SW-R)[Blitz BASIC].adf
Missiles Over Xerion (1994)(Cycletech)(Disk 1 of 2).adf
Missiles Over Xerion (1994)(Cycletech)(Disk 2 of 2).adf
Nicky2.adf
Poker Mania (1994)(Green Lizard).adf
Scorched Tanks v1.90 (1995)(Dark Unicorn).adf
Springtime (1995)(Trecision).adf
Tony & Friends in Kellogg's Land.adf
Wibble World Giddy! – Wibble Mania (1993-05-14)(Ruston, Phillip)(PD).adf
PACK DOWNLOAD
Click below to download – extract with Winrar
File Checksum: 14e775d1de3863ffe971cf7d63affec5 amigaholics_pd_public_domain_download_pack_games.rar
CREDITS
Massive, massive massive thanks to FuZioN / NeoKorteX for the epic ascii and all the contributions to Retro32. Absolute Legend! Check out his website
LET'S HEAR FROM YOU
I aim to keep expanding this pack with your feedback – please let us know if you have any issues for suggestions for new games to add. Enjoy and happy gaming!
OUR OTHER AMIGA ARTICLES
As well as all the game videos we've been pumping out recently, we've also got a number of other Amiga guides. Check out the links below