If like me, you're taking full advantage of modern Amiga SD/CF hard drives then you'll be looking to fill it with your favorite games from your childhood. Running games from an internal drive using WDHLoad makes the gaming experience buttery smooth with reduced load times and no fiddly ADF swapping from your glorious Gotek (more on the Amiga Gotek here).
With some 3200+ games available in the WHDLoad format, we're not going to offer them for direct download from the site – rather point you in the right direction. So simply use the link below and fill your boots!
https://archive.org/details/Amiga_WHD_Games
The games can be downloaded in one massive chunk using your torrent client of choice or as a 4.8GB zip file or alternatively, you can click the link below to see the entire list of games
https://archive.org/download/Amiga_WHD_Games
Be sure to use CTRL F in your browser to make finding Amiga games for download faster.
What download format do they download in?
All the WHDLoad games are available in either zip or lha format. The lha format is the Amiga equivalent zip compression and can be opened using on a PC using WinRar or using the extract function on Dopus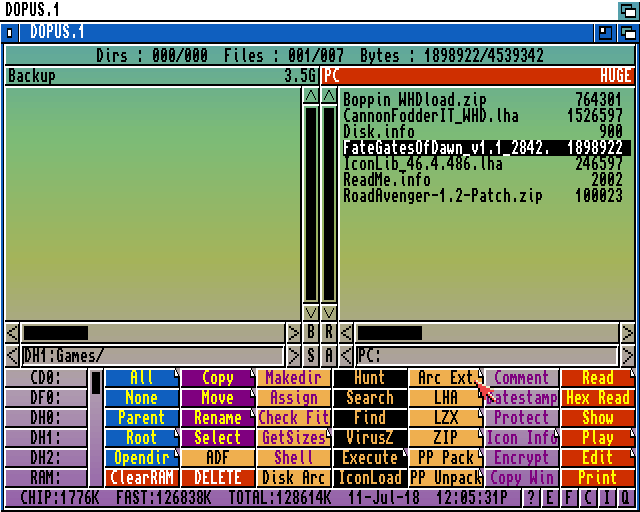 How to extract .lha files with Dopus: Click the .lha file – then select "Arc Ext" it will be extracted / uncompressed to the opposite window (as above).
We need you!
Are there any other WHDLoad game resources our fellow Amiga enthusiasts need to be aware of? Are there any little gems in this collection that you can recommend? Let us know in the comments below
Other Amiga Resources